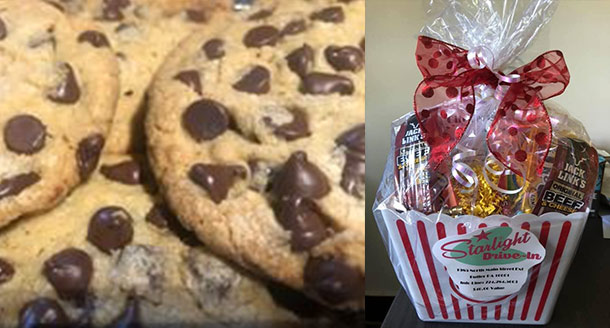 NEW!!! Little Meals for Little Appetites!
The Starlight's KID PACKS offering Hotdog, Burger, ½ Eng Muffin Cheese Pizza or a Chicken Tender come with child side of French fries or Tots OR a POPCORN Kid Pack. ALL include a Small Fountain Drink OR No Added Sugar Apple Fruit Shooter!!!
COMING SOON!! FAMILY and DATE NIGHT CONCESSION DEALS!!
INTERMISSION ONLY SPECIALS $1 Hotdogs, Small Fountain Drinks or Small Popcorn
ALSO, our BUY 10 GET ONE FREE COMBO DEAL or KID PACK program will be honored through December 2021!!
6" or 16" Pizza with toppings ~ Burgers ~ Dogs ~ Chicken Tenders ~ French Fries ~ Tots ~ Onion Rings ~ Breaded Mushrooms ~ Mozzarella Sticks ~ Soft Pretzels ~ Cinnamon & Sugar or Salt ~ Churros Cinnamon or Oreo ~ Funnel Fries w/ powdered sugar ~ Nachos with Cheddar Cheese & Jalapeños by request ~Hershey Ice Cream ~ Milkshakes and Floats ~ Movie Candies ~ Bubbles Homemade Triple Chocolate Brownies ~ Bubbles Homemade S'more Triple Chocolate Brownies ~ Huge Homemade Double Chocolate Chip Cookies!!
Gluten Free pretzels, buns, baked goodies and pizzas are always available!!
On Occasion Menu items include Homemade Italian Meatball Subs ~ Smoked BBQ Pulled Pork ~Hot & Sweet Italian Sausage Subs ~ Philly Steak & Cheese with peppers and onions and so much more!
Gift Baskets
Filled with a gift certificate, movie candies and add a Starlight T-Shirt / Hoodie & / or Starlight Ball Cap
Made to Order. Any $ value – email us at [email protected]!
---
Gift Certificates
Gift Certificates are good (1) one year from date of purchase and may be used for: Ticket Admissions, Food, Mini Golf, Parties or Souvenir Purchases!
Purchase on site at the concession stand!!  Or by emailing us at [email protected]!
For your convenience the option is available to pay via Pay pal and we will mail out USPS!
Clothing
Souvenir Ball Caps (Camo or Black)
$18.00 Each
SNUGGLE Throws
( Black Sweat Shirt material – 52″ x 60″)
$25.00 Each
Souvenir T-Shirts
(S-M-L) $18 (XL) $19 (2XL) $20 (3XL) $21
Hoodies
Sizes S – M – L $25.00
XL $26.00
2XL $27.00
3XL $28.00